Au stabilization effect on Pt catalysts for oxygen reduction reaction
Анотація
Hydrogen-fueled proton-exchange membrane fuel cells (PEMFCs) are promising renewable energy due to the only by-product is water and low operating temperature [1]. In the last decades, It has been proved that platinum is the most efficient catalyst for oxygen reduction reaction in the application of PEMFCs [2]. However, the less abundance and high cost of Pt hampers the commercialization of fuel cell technology. Therefore, it is important to increase the activity, stability and utilization efficiency of Pt catalyst.
Посилання
J.P. Miyake, Y. Ogawa, T. Tanaka, J.J. Ahn, K.K. Oka, K.C. Oyaizu, K.J. Miyatake, Communications Chemistry 3 (2020).
J.K. Norskov, J. Rossmeisl, A. Logadottir, L. Lindqvist, J.R. Kitchin, T. Bligaard, H. Jonsson, J Phys Chem B 108 (2004) 17886–17892.
A.A. Topalov, S. Cherevko, A.R. Zeradjanin, J.C. Meier, I. Katsounaros, K.J.J. Mayrhofer, Chem Sci 5 (2014) 631–638.
P.P. Lopes, D.G. Li, H.F. Lv, C. Wang, D. Tripkovic, Y.S. Zhu, R. Schimmenti, H. Daimon, Y.J. Kang, J. Snyder, N. Becknell, K.L. More, D. Strmcnik, N.M. Markovic, M. Mavrikakis, V.R. Stamenkovic, Nature Materials 19 (2020), 1207.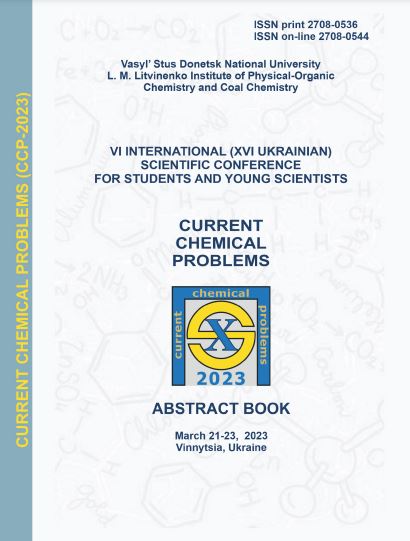 ##submission.downloads##